Fora Form has a conscious relationship with the outside world: The community in which we produce the furniture, our employees or the climate imprint of our products. These are components that influence our furniture. We at Fora Form are committed to making a positive difference. Satisfied employees who are content and making furniture they can be proud of create a better end product for our customers. 80% of a product's environmental footprint is determined already in the design phase, and we have sustainability as a strategic requirement for all new products. Fora Form AS aims to make our products last a long time, both in terms of design and function. We tell customers about our footprints through international certifications or target figures that are comparable to others. This way our customers can make conscious choices.
What planet do we want our children inherit? How we can make sure that we deliver correct and quality products time after time, and last but not least: What kind of company do we want to work for? Unfortunately, there are no easy solutions to these questions, only that you make good decisions time after time. It is our job to enable you to make good choices when purchasing furniture.
The company
Fora Form has an exteded experience in making long lasting furniture. The functional and aesthetic value of a product is extended by durable materials. We have a proven relationship with what we consider to be our standard materials. These materials safeguard public use and wear.
Fora Form is ISO certified in quality management (ISO 9001). ISO 9001 is an international standard for companies to prove a quality management system in the organization. The purpose is to ensure the customers, products and service in quality as described and expected. By integrating environmental and work environment management into the overall quality management system, Fora Form commits itself to a systematic and continuous improvement of defined quality aspects. This will be achieved through the main components: 1) Correct definition of quality 2) Correct measurement of quality 3) Overall objectives for quality work and working methodology.
The furniture
Furniture sold to public areas must meet requirements that "Møbelfakta" demands. "Møbelfakta" is a voluntary and neutral test and certificate for furniture and furnishings that gives the product a documented quality. "Møbelfakta" include requirements for strength, durability, material quality, stability, flammability, surface treatment and safety. Most Fora Form products have been tested and approved according to "Møbelfakta".
All products must be checked against the requirements specified in the product specification and in the quality control procedures. All products must be of such quality that no danger or damage arises from the use of the products.
Optional materials are often the weakest link in a product's quality. Fora Form has selected materials that can withstand public use. We therefore recommend materials found in our "Standard" (2-3 working weeks delivery) or "Menu" (5-8 working weeks delivery) collections. All materials have positive and negative sides to them, and there is no material that is ideal for everything. The relationship between where the materials are used and the purpose is the key to making quality choices for long lasting furniture.
Shortly after the launch of a product, there must be an environmental label for the product of TYPE 1. This means either the EU Ecolabel Swan label or Swedish furniture fact.

To extend the life of the furniture, we have launched Fora ReForm to extend the product's life visually, functionally and without reducing a product's value in the second-hand market.
"Furniture sold to the public environment must meet requirements for "Møbelfakta..."
The company
Fora Form has a conscious relationship to our environmental footprint, both in terms of our products and our factory in Ørsta, Norway. We prove Our footprints through certifications. Fora Form is ISO certified both in terms of quality management (ISO 9001) and environmental management (ISO 14001). By integrating environmental management into the overall quality management system, Fora Form is committed to a systematic and continuous improvement of defined environmental and quality aspects. ISO 14001 is an international standard for companies that want to build an environmental management system in their organization. The purpose of environmental management is to protect the environment and prevent pollution of the environment.
Fora Form ensures continuous follow-up of the important environmental aspects such as energy, raw material consumption, packaging, waste, transport and relevant emissions related to our own production sites. The use of hazardous chemicals must be minimized. Furthermore, the total use of resources should be reduced. Fora Form strives for high energy efficiency in production and the waste volume from production should be reduced to a minimum. All waste must be sorted according to source to ensure a high recycling rate. The use of packaging must be minimized and all packaging must be recyclable.
For the sake of nature and you, all Fora Form products are made from raw materials that are traceable and minimize our resource use. We work actively to reduce the amount of waste from our production and all waste from production is recycled in accordance with Norsk Recycling's requirements. Wood used in our furniture is FSC certified and our factory buys 100% renewable energy for the plant's consumption of local power plants.
Fora Form also has a conscious relationship with our subcontractors and all our standard textiles are certified in accordance with environmental standards in the textile industry
The furniture
Fora Form analyzes material consumption and environmental impacts throughout the life of the products and makes environmental information available to customers and other stakeholders. We do this through the industry's environmental declaration; EPD. An EPD will detail the product's contents, transport, packaging and result in a given amount of CO2 equivalent. This figure provides a basis for stating that one product is better for the environment than another and the reader gets a more nuanced picture of a product's content. EPD Life cycle analysis / product declaration should be available on all products.

Products should be designed to have a long life and be recyclable. We influence our suppliers to use the same environmental standards that are used by us, and influence carriers to improve the utilization of cargo capacity and use the most efficient transport solutions possible.
Fora Form has integrated sustainability as an element of product Development process when we develop new products. In this way, we can steer material choices and logistical challenges towards good choices that are reflected in a low CO2 value on the product's EPD.
"An EPD provides a basis for stating that one product is better for the environment than another."
The company
Employees who are content and manufacture furniture they can be proud of create a better end product for our customers. Fora Form has therefore chosen to ISO certify the factory within the working environment and management system. ISO 45001 is an international standard for companies that want to build a standard for management systems of occupational health and safety. The purpose is to ensure a safe working environment, both physically and mentally and that is, we have routines to detect bullying, discrimination and unwanted behavior. Fora Form also conducts well-being and cultural surveys regularly to find areas to improve us.
Fora Form accentuate the importance of not letting our environment internally expose our employees to accidents and health injuries, physically or mentally. We emphasize that we place our effords on preventative work so that safe, pleasant, tidy and safe workplaces are achieved. Fora Form will strengthen and prioritize emergency preparedness and fire prevention to ensure that people and equipment are not damaged and jobs are lost. We will not use raw materials, components, machines and equipment that could pose a risk to health, both internally in our own production and with subcontractors to the extent possible to follow up on this. The finished products should not contain substances that can cause health damage during use and disposal of the products.
"Employees who are content and manufacture furniture they can be proud of create a better end product for our customers."
The best thing we can do is make products that last a long time and with designs that last a lifetime. The documented work on strategic use of design, Fora Form has proven that good design lasts a long time. If you want to read more about it you can click here.
Our designs and designers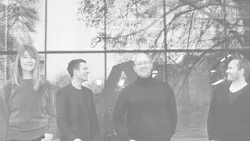 HOW DO WE EXTEND THE LIFETIME OF OUR PRODUCTS?
Fora Form will take responsibility for our products even after they have been sold by offering the opportunity to upgrade, reupholster or repair our furniture. This work is done locally by authorized local Fora ReForm partners. By reforming a Fora Form product, we provide a new warranty, a new EPD that proves a new Co2 footprint and original parts that safeguard our heritage.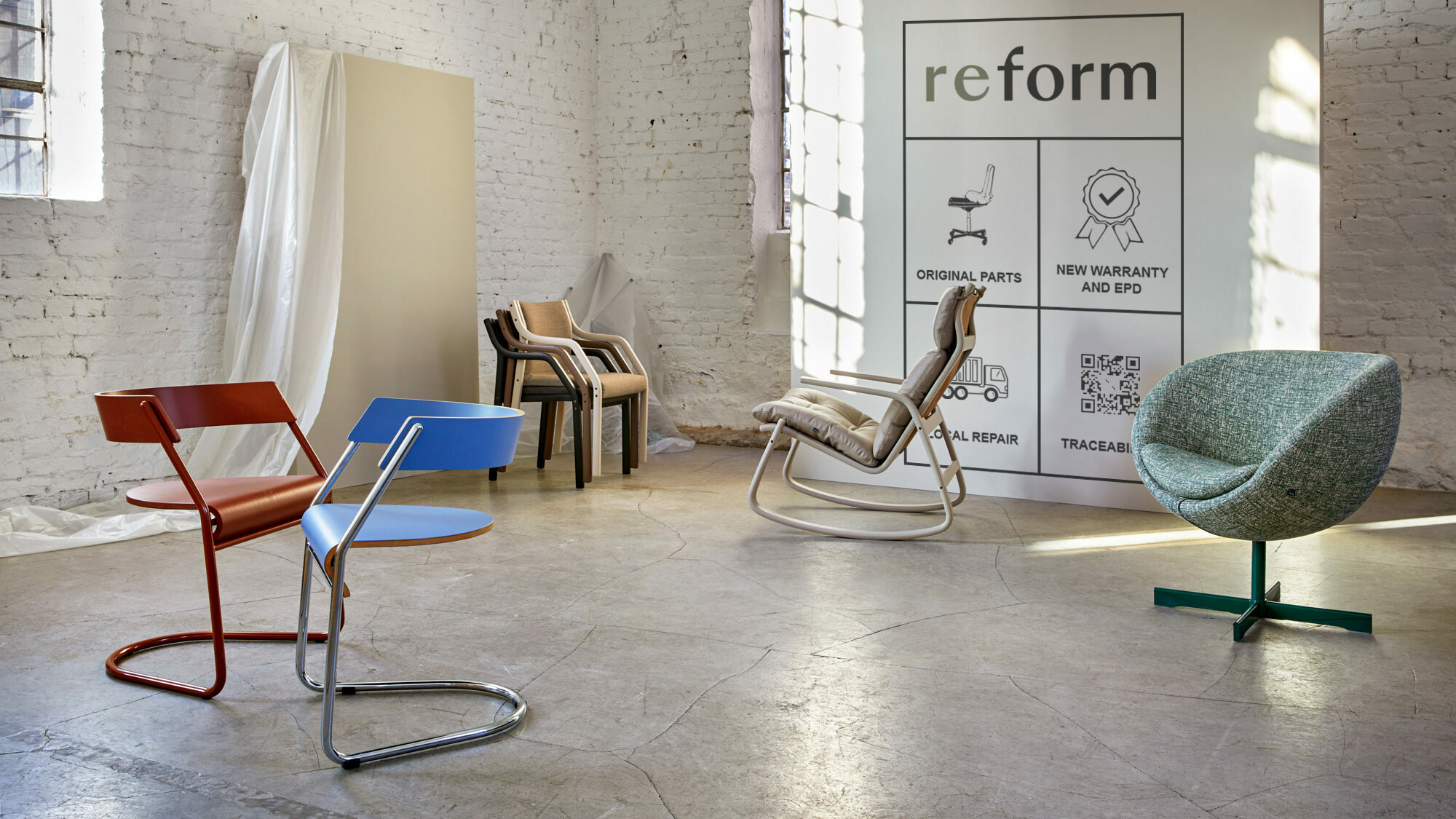 Download ISO 9001, ISO14001 and ISO 45001