In the daytime - a spacious gymnasium. In the evening - a concert hall
Multiuse
A telescopic theater provides the opportunity to extend the use of a room to additional use more than a fixed auditorium. An area is a resource that increases in value when one can expand its use. For the user, the chairs and the sturdiness are crucial, for those who are going to operate the installation simple and seamless use will be important. Security, safety and stability are the keywords for a successful telescopic amphitheater.
The hall will probably be used for cultural events, such as concerts, theater, cinema etc. Equipment will be provided for this type of use, with a view to acoustics, stability, sight lines and comfort. Telescopic tribunes are very flexible, both in construction and function. They can be built in different heights, different widths, parabolic rows and curved rows.
In addition, one large amphitheater can be divided into smaller sections or used with fewer rows, adapted to the different arrangements and needs.
To describe a sterdy telescopic Product og good quality to last a long time, you need a good description. There are many providers on the market who's quality differs greatly. The differences are primarily the technical structure of the retracktable theater, while the chairs may be just as dependent on the type one wishes. Telescopic tribunes may be prone to creaking and unstable constrictions. Here is some advice for you to describe the product correctly.
The tender
It is important that the tribune has a floor frame that is a fully welded construction without scrubbing. The wheels should be connected to a roller bearing for easy and silent manoeuvre. Minimum diameter wheels are 140mm and a width of 44mm.

Telescopic tribunes with integrated motor operation must have front-end tribune motor to be able to control the amphitheater and avoid inventory damage. The grandstand should also have automatic mechanical locking system between each stage in the open position. One must also ask whether the retractable theater should not be adapted, thus making the retracktable theater usable without all rows being drawn.

Point load against floor should not exceed 25 kg / cm2. Equipment that is subject to EU directives must bear the CE marking. The stand should be able to be acoustically adapted to the hall both in construction and in chair.

A good and rational solution for covering the sides and the back of the retracktable theater should be delivered when in use. The grandstand must have approved handrails on the sides. Must be light and easy to put down / remove before merging. It must also be selected between telescopic or removable handrails. As well as describing and whether top railings should be the same angle as the stand or straight top). If it must be row and seat number, this must also be described. Many telescopic amphibians today have LED lights mounted in stages.

It is important to think about fire requirements and escape routes. On a telescope for school use we plan a size of CC500mm (center to center).
Optional accessories:
Turntable that rotates one full theater to change driving direction.
Air Cushions. (Turntable alternative)
Locking rows so that the desired number of rows can be used.
Power outlets
Writing Function
Laser directional control of the grandstand
Soft start and stop motors.
How to describe the chair?
Chair type (Plaza / Granada / Galant) from Fora Form / Jezet or similar.
Chair should be attached to the vertical step / step nose for easy maintenance and cleaning. For step nose solution, fittings should have "wash strip" for easy cleaning at horizontal level.
Chairs should be anchored in steel construction in the grandstand, not just in the wooden deck.
Amphi and chairs must be equipped with row and seat number.
Acoustic properties on the chair are important, if any test report is attached.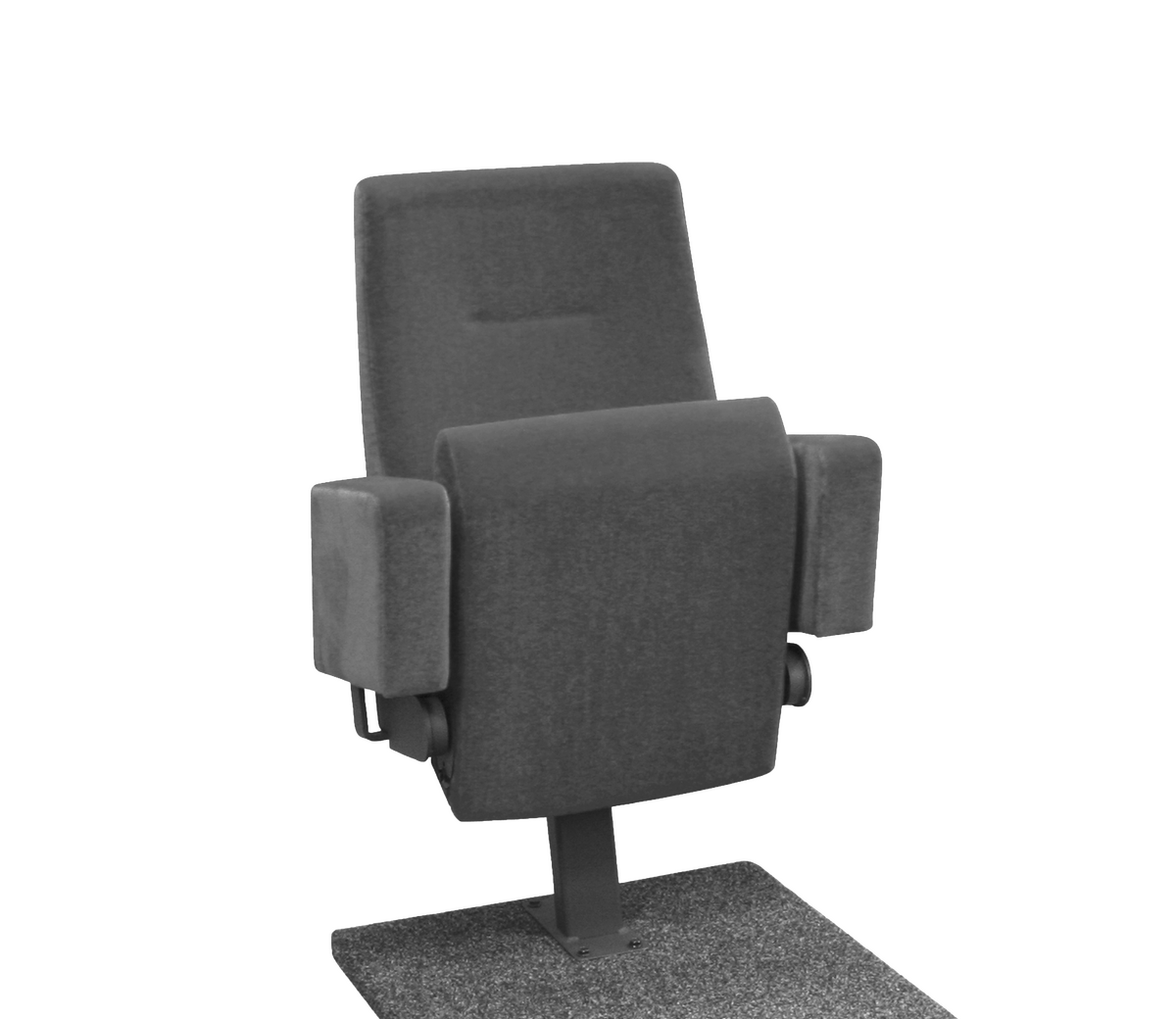 The Plaza is our best seller and impresses with its acoustic abilities.
Electronics
All equipment must be Nemko approved or equivalent and finished equipment must meet current requirements. The installation must be complete, tested and adjusted ready for use.
Scope
Delivery shall include complete product ready for use. Included must be necessary fasteners, tools etc. The supplier is responsible for the delivery being transported into openings as specified. The delivery shall include transport to the building, unloading and transport, pre-assembled, tested and in operation. Training of staff and user manual in Norwegian shall be included.
Warranty:
Fora Form provides a 10 year guarantee on amphibious construction. 5 year warranty on chairs. 2 year warranty on electrical components. Upholstery fabric according to the manufacturer's warranty.