Fora Form has provided products to workplaces and the public environment for the past 90 years. Fora Form through strategic use of designers and the unique qualities that lie in a designer's problem solving has been the basis of this success. There is little doubt that the relationship between Fora Form and it's designers has been one of the main reasons for Fora Form in 2019 to celebrate its 90th anniversary.
Every product has its story to tell. Each product has solved a function in its time and adapted to the interaction of the time, between people, society or the environment.
.
If you would like to read about today's designers and our relationship with design as a strategic competitive advantage, you can read about it here.
Our designs and designers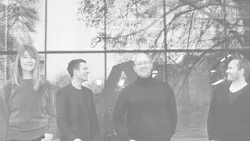 Fora Form has many design successes throughout our long life with professional designers. You can read some of these stories below.
In the 50s, Fora Form saw that there could be some competitive advantage in using professional designers to come up with new designs. The first example of this was our Quantum Collection, which included City designed by Øivind Iversen. This also coincides with new product zone methods that strengthened the product's carrying capacity and allowed design in new forms. The pace of innovation increased and in many ways it can be said that the laminating technique helped to develop the factory in Ørsta into an industrial company that made stronger and more innovative products than others. This is one of the reasons why Fora Form still exists to this day. In addition, an export collaboration ensured that sales out of Norway were good and there was great willingness to test new innovative products. The Planet chair by Sven Ivar Dysthe was particularly innovative when it was launched. This was considered Norway's first PopArt piece of furniture. The product stands today as a symbol of modern Norwegian furniture production. Although the Planet chair does not use laminating technology, this was a major part of Fora Form's growth in the 60s and 70s.

The laminette chair designed by Sven Ivar Dysthe is a good example of this technology. The laminette chair was the answer of the day to a social democratic wave about building assembly houses and community houses. The chair's features and simplicity made it respond to function and the form and material use of the day. The Laminette chair sold over 1 million chairs in total worldwide and the chair stands as an undefeated export success in the context of Norwegian furniture history.

Another example is Spring designed by Terje Hope and Totem designed by Torstein Nilsen. These products utilized Fora Form's industrial Production methods while positioning themselves in the contemporary design language as a unique combination of form and function. The products were suitable avant-garde for the market while staying within the sober Norwegian framework. Thus, an interaction between a trend in time and our environment. Sping also became a commercial success, and despite the fact that the product went out of production more than a decade ago, Fora Form still sells spare parts to statisfied Spring chair customers.
Around the mid 90's there was an increased focus on design and especially products that had a design history. A number of relaunched products saw the light of life after being drawings for a few decades. Laminated wooden chairs were againon trend and Fora Form relaunched the City chair. A number of the original wood materials had become unethical to use by then and the chair was relaunched in contemporary wood materials. A few years later, the chair was relaunched in a plastic version. Planet, Popcorn and Prism are also chairs that have been relaunched. These have a unique design statements, which has clear references back to the mid 60's.

From the mid-90s informal meeting places became more important. Lines were drawn between the furniture in the workplace and the focus on well-being, raising competence across departments and that work culture is actually influenced by the surroundings as a factor. Modular sofas that can easily be adapted to different areas for interaction are given increased focus. At the end of the 2000s, the UP sofa is launched which, in addition to helping the user talk to the person next to you, also has the users sitting on the sofa's back. This is great design, where the product helps the user to become a better version of himself or herself.
Towards the middle of the 2000s, a open floorplans and office landscapes are being built in Offices in the northern part of Europe . The importance of making smaller rooms for meetings grows and concepts like highback sofas are created. Senso module sofa is a product that responds to this challenge, by allowing users to choose whether the zone is designed for connection or individual work.
In this way, Fora Form's products have moved in the landscape between commercial design adapted to social trends and the design requirements of the time. No other company that used design as a strategic tool for as many years. Fora Form's interaction between time and good design has given us a total of 43 design awards from home and abroad. Our focus on designers and how they see the meeting places of the future just gets more and more important.