Auditoriet er stedet du lar deg engasjere. Stedet du føler, opplever noe spesielt eller tilegner deg kunnskap. Det er vår jobb å sørge for at disse opplevelsene blir best mulig.
Larger auditoriums are a great way to collectively relay one message. By gathering one large group it is easier to control the receivers connotation of the Message. Weather it is movies or teaching students.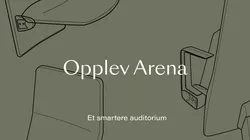 In the spring of 2021, we launched a new auditorium chair - Arena.
The chair aims to make the processes around auditoriums more efficient with increased flexibility and simplified assembly.