The Knekk family
The Knekk series is made for creativity and social meeting places in elegant and solid oak. The original idea was to create a furniture for engaging meetings where the participant's naturally are being tilted in a forward-leaning position. Knekk has a clear Nordic expression, good comfort, great width, and overall style.
The new Knekk chair creates both space for reclining reflection and forward-leaning discussion due to the two-part seat plate. The chair comes both with and without armrests and has an elegant look. The chair can also be supplied with fixed seat cushions in the seat and back for additional comfort. The chair without armrests can be stacked.
The jury's reasoning
"Nice concept of subtly tilting the user forward to encourage engagement. Sustainable manufacturing and stylish Nordic design: Knekk ticks all the boxes!"
Fora Form works continuously to create furniture for collaboration and good social settings, and Knekk has quickly become one of our most essential signature pieces. This is the second time John Fauske has been awarded a prize for great design, proving that he is a designer to reckon with for the future. Knekk was awarded Doga's design prize for Newcomer of the Year in 2019.
"It has become more important for people to have a pleasant work atmosphere with zones and furniture that facilitates collaboration and socialization after the pandemic. At Fora Form, we aim to make great indoor experiences, and Knekk is truly an important contributor to this", said Pål Eid-Hviding, Head of Marketing at Fora Form, after the awards ceremony. Knekk resulted from Fauske's student assignment where he interpreted Fora Form's motto "Wherever people meet."
.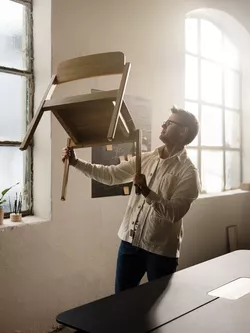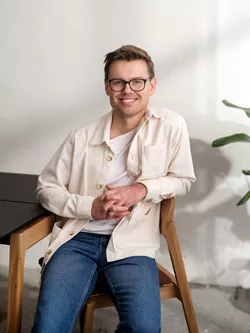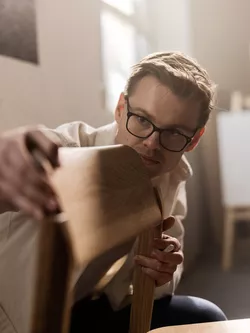 "This is huge! I am incredibly happy, proud, and grateful that the Knekk family has received this award and is being recognized outside Norway", said the designer Jon Fauske after the awards ceremony.
The split seat increases functionality
Jon Fauske designed the Knekk bar stool with the characteristic two-part seat top. Since its release in 2019, it has become particularly popular in workplaces where creativity is at the center and in social zones in workplaces and catering establishments.
This year Knekk has been launched as a series of chairs, tables, and benches. The unique design element is the split seat plate, facilitating forward-leaning collaboration and a normal sitting position. Knekk is a piece of furniture that stimulates activity and engagement.