The Senso sofa system is flexible, narrow and appeals to informal meetings between people. It can provide setups with acoustic benefits, as well as nudge desired interaction through the used of the different modules. A well thought out contract sofa looks the same regardless of who last used the sofa. The Senso Patchwork allows you to add texture and capture mood without adding cluttering loose cushions and pillows. By using Senso Patchwork, the area will look neat and inviting and require no additional maintenance than what any sofa requires.

About Gudbrandsdalens Uldvarefabrik
Gudbrandsdalens Uldvarefabrik AS was established in Lillehammer in 1887 and is today one of Europe's leading suppliers of furniture and furniture fabric. Design is our passion, the very core of our business, and we are constantly innovating by working with a dynamic network of global designers in different fields.
As the only vertically integrated manufacturer of design textiles in Scandinavia, we have the entire production process under the same roof. This means that we are flexible with our technical features, as well as working with an unlimited color palette, all to your advantage.

If you want to read more about the company you can read more on their website:
Gudbrandsdalens Uldvarefabriks website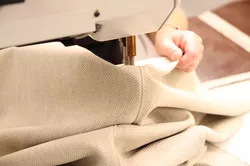 Regarding the moodboards and set ups
The fabrics in Senso Patchwork and the color combinations were carried out by Gudbrandsdalen Uldvarefabrik's color experts to best utilize the woolfabrics undertones and depths. The fabrics placement on the modules is based on the qualities and characteristics of each fabric. The fabrics are assembled to withstand public use. The colors and moodboards are based on Fora Form's materials on other products such as steel coating and plastic colors.

The Senso modular sofa was designed by Anderssen & Voll in 2014. In a short time, the modular sofa became well known for being a solid and sleek sofa for the contract market. Senso is built on a steel structure, with nozag springs and cold-molded foam. Giving the sofa stability and sturdyness to withstand use in most public places. Last but not least, the sofa series has a simple Nordic design language that will last over time. Everything you expect from a Fora Form furniture.

Here are other Senso configurations