"For us, it was essential for this to become a complete hotel with the facilities that are expected – restaurant, bar, conference rooms, spa facilities, and other communal areas have all been crucial components to include in the overall experience," says Frode Solbakk, the Hotel Director at Elva Hotel.
During the planning of Elva Hotel in Voss, the goal was to create a hotel with innovative and distinctive architecture, where nature-based experiences would be a central part of the overall concept. It was not only important for the hotel rooms and lodging experience to stand as independent and exclusive units; design and choice of furnishings have also been discussed since the initial architectural sketches were presented.
A landscape hotel
The design of Elva Hotel has thus revolved around a main building with modern communal areas combined with detached lodging rooms close to nature. The project was entrusted to Mange Bekker Architecture, and the result has become what can be described as a landscape hotel.
Using design and architecture as tools
Design and architecture have been crucial in achieving a holistic concept in the total hotel experience. Solbakk mentions the increasing interest in renting exclusive treehouse cabins as inspiration for the project, and this, in combination with the proximity to nature, further emphasizes the concept.
.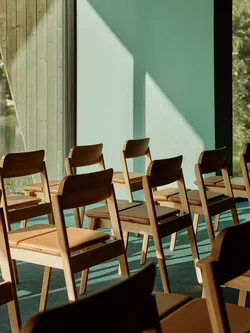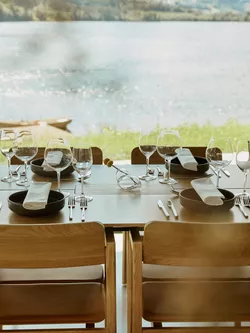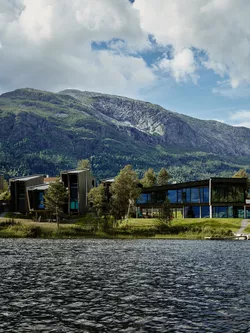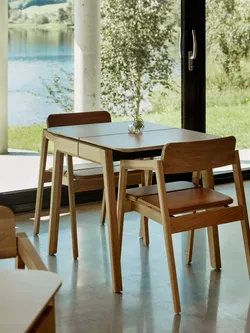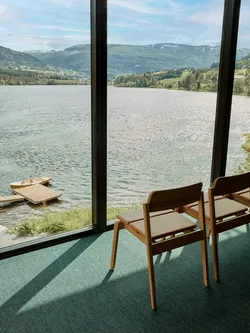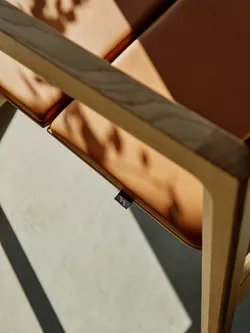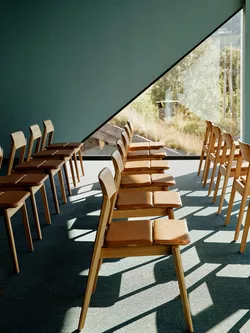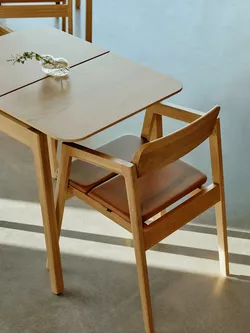 Sustainability has been a fundamental principle for the hotel from the very beginning. In this context, Solbakk states it was only natural to consider locally sourced options, including furniture and decor.
"Fora Form, with its Norwegian designers and production in Ørsta, quickly became a central collaborator," says Solbakk.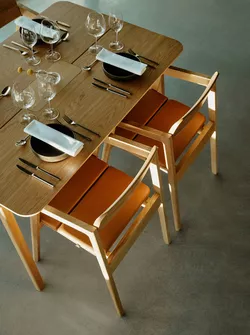 The result has been a comprehensive delivery from the Knekk family, launched earlier in 2023, designed by Jon Fauske. In the hotel's focal point, the restaurant, Fora Form, has provided all the furnishings, including chairs and tables of various sizes. The tables can quickly be joined together, providing flexibility in the room for multiple uses. The chairs maintain a consistent design, contributing to an integrated, exclusive, and Nordic-influenced ambiance in the restaurant.
Hotel Director Frode Solbakk:
"The Knekk series, with its distinctive angles, fit the hotel extremely well, given that the hotel hardly has a single straight angle".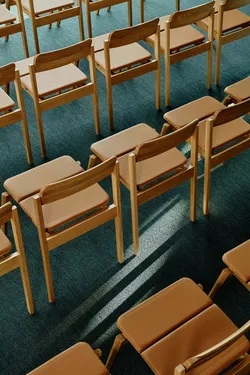 Fora Form has also supplied seating arrangements in the hotel's conference rooms, with Knekk chairs contributing to a cohesive, streamlined, and Nordic approach to the traditional conference space. Combined with the picturesque surroundings, harmonious color choices, and natural materials, this creates a unique conference experience that aligns strongly with the rest of the hotel's concept.
"We have achieved exactly what we aimed for – our guests particularly mention the view, architecture, and furniture design," says Solbakk.
Since we chose the furniture early in the process, the architects and interior designers could select materials and colors that complemented the furnishings, says Solbakk. The feedback from the guests is unanimously "delighted."
Photo: Ida Bjørvik @ Hest Agentur
Architect: Mange Bekker Arkitektur AS
Dealer: Holmris FormFunk