Coffee machine and refreshment area
The coffee area is often the very nerve of a company. It is the first place we meet in the morning, where we address things we think about and care about. The space is one of the areas we usually visit during the day. Since it is a site of frequent visits, it is an easy place to create a zone that invites interaction.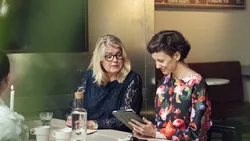 Tables and seating at counter height invite for impromptu stops and quick meetings. Counter height furnishing also makes it easier to stop for a chat. Maybe two colleagues need to discuss something to make a quick decision? Counter height allows users to often lean forward across the table, making meetings more intense and engaging. Maybe then it is a golden opportunity to use the commitment for something positive. A screen solution can tell about the social commitments of the organization, and make employees become colleagues over a good cause.
Many people see the value of sofa groups in the coffee zones. This zone can also serve as informal meeting places if you plan to use it for multiple purposes. This is how you get a break from the project room or meeting places inside the work zone. If you plan to use the coffee zone for more people, you have to take into consideration the different needs people have. Sitting very low is uncomfortable for some work attires, and it can be difficult to get up for some age groups.
The Senso modular sofa can be delivered in both standard height and bar height.