If there is one lesson the past few years have thought us, it is that tomorrow's offices need to be flexible and adapt to ever changing needs.
The now relaunched Clip Noir still gives you the ability to change your set-ups quickly, to whatever set-up that best fits your needs; all without compromising on the design.
By reengineering the design, we are now able to change the colors of the base to a sleek black design, or a more adventurous color scheme.
Clip' distinct design challenges the traditional fragile folding mechanism. If you're looking for a table for a space that regularly needs to change, the Clip table is still a sturdy, easy and stackable option, yet not fragile, nor foldable. The Clip table system builds on the idea that stacking the table makes the table last longer, without the wear and tear that a foldable table gets.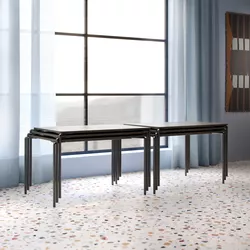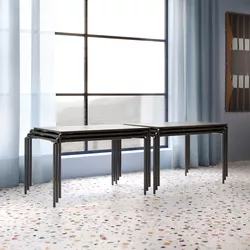 A clever design feature is the base sleeks ability to give an illusion of only having one table by placing the legs on the outside of the tabletop and keeping the legs inside on the opposite end. This keeps the table stable and "locked" in connection to the other tables when placed in a row.

The new feature
Every project is unique and deserves a cohesive design scheme tailored to each companysdesign manual. The Clip tables reengineered base now allows you to color the base, and the only limit is your imagination! Designing inspiring furniture is not an objective itself, it is merely a tool to pay the inspiration forward to however is using the table.
Functions
An extended long table to bring people together, or the two teams working on a task.
The School or lecture set up, designed to limit distractions, that can be changed to a bigger table designed to enable discussion.
The Canteen being utilized for bigger meetings.
Clip – Stylish and flexible.