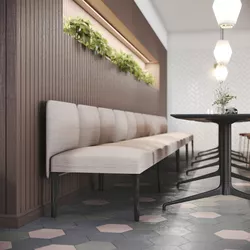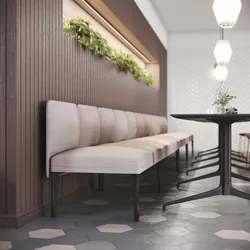 Senso as a dining sofa
Senso in dining areas has already become a success. Furnishing with a sofa in such zones makes the area cozy and more inviting. Sofas with high backs can also help create a natural divider and turn interaction or attention in the desired direction. Warm and inviting dining areas bring people together and can help bridge gaps between different organizational unit. This way, the space is a cultural facilitator in organizations.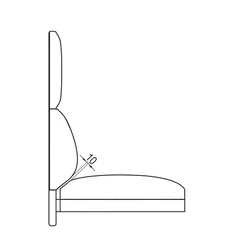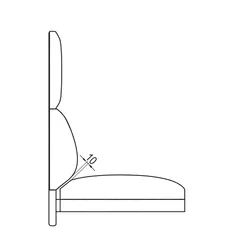 Cleaning gap? Crumb gap, or Cafè gap?
Creating a dining zone that takes care of the need for efficient cleaning while giving users a good zone for interaction and a coveted break requires good solutions from us as manufacturers of furniture. Senso Cafè is one such solution.

By creating a distance between the seat and the back, space is created for dirt and crumbs not to remain in the sofa's construction.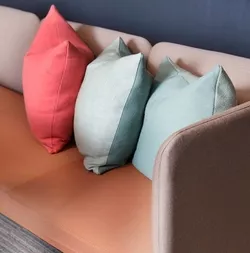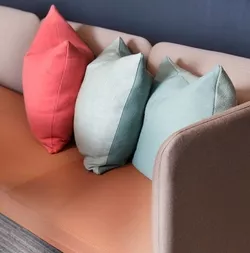 Different fabrics on modules
Because Senso has unique modules where each part is individual, it provides good usability in dining zones. The modules can be specified with different textiles, leather, or faux leather to adapt to the use so that the sofa meets the requirements of a dining zone. An example of this could be that the backrest is upholstered in a comfortable warm woolen fabric, while the seat is upholstered in textiles or leather that can be washed over with a damp cloth. In this way, you keep the dining area tidy, pretty, and attractive over time.
Senso Facts:
Senso construction has steel frame with nozag springs / cast cold foam and felt gliders. Back in plywood with cast cold foam.

Senso is available with three different back heights to vary interaction and acoustical challenges.

Available with café gap between seat and back (excluding ottoman with table and counter height)

Can be delivered with power outlet for ottoman and fixed table.

Legs in polished aluminum, black or white epoxy. Coated epoxy in other colors on request. Senso also comes with oak base.