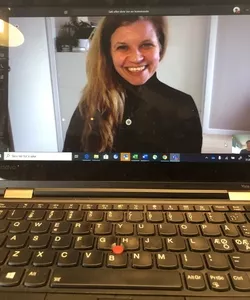 Monika Hestad, General Manager, Brand Valley
Brand Valley is an independent strategy consulting firm based on 15 years of research in design management, innovation management and brand strategy. Monika is the general manager and uses creative processes in her work, both in the exploration and the idea development phase of projects. The approach is based on her education as an industrial designer and a doctorate in product development and branding as well as pedagogical education.
Monika considers creative processes as essential to the value Brand Valley delivers. In the processes, she uses instruments such as cards, music or hats to help participants think differently.
In recent weeks, Monika has conducted two workshops that changed from physical to digital workshops as travel restrictions due to the pandemic. The digital tools she used were "Microsoft Teams", "TRELLO", "Miro" and Google Docs.
"One of the reasons why computers disrupt creative work is the physical barrier the screen creates towards the other participants. One ends up sitting and working for themselves instead of together. With integrated webcams, the physical obstacle is gone."
"Managing creative processes under the current circumstances requires more planning ahead," says Monika. "You have to plan for the technological tools you are going to use not to be an obstacle. The common tools such as Post-its and Flip-overs are replaced by computer programs such as "TRELLO or MIRO". In these programs, everyone becomes active on the same surface. Monika says that the different phases of the processes can be more demanding: "I find that the participants are more likely to be critically analytic rather than exploratory." Brand Valley solved this in its second workshop using "Six Thinking Hats" from Edward de Bono. "Humor and hats break down the critical thinking in the phases you don't need," Monika explains, "and it also makes the participants forget the technological challenges to a greater extent."
Monika also made some other reflections: The fact that everyone has worked in the same technical aid gives less time for post-work. The report work has already begun and gathering the data from the workshop takes less time. Another benefit of the new tools is that the participants themselves can share information along the way and retrieve research from various sites on the Internet. "One of the reasons why computers are unwanted in creative work is the physical barrier the screen creates to the other participants. The focus is to sit and work for themselves instead of together. With integrated webcams, the physical obstacle is gone. What you do end up losing is body and eye contact, in that the participants look at the screen in front of the camera. Some of the dynamics get lost there. Plus, you miss the simplicity of the post-it notes," Monika adds.
"When everyone works in the same technical program, generates less time needed for post-work. The report has already begun, and less time is needed to gather the data from the workshop." Monika Hestad, Brand Valley
Monika thinks we will see changes in the form of new working methods. "We are being forced into another reality. A reality where the increased use of digital conferences is changing work methods. We are becoming more comfortable with the tools, and we have to use this to our advantage." The changed methods can enable us to travel less in the future and perhaps this crisis has developed methods that can be used un a positive context as well. Although much will fall back to the old norm. Her advice for future creative processes is to not uncritically apply methods used in physical workshops into new digital formats. Rather, take as a starting point what you want to achieve by using these methods, and then look at what opportunities lie in the digital solutions. This is when it becomes inspiring to work digitally in a creative process because you experience good results in a short time.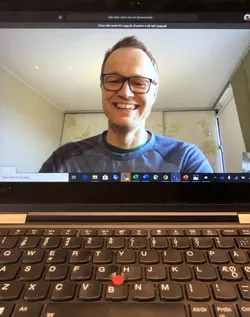 Tarald Trønnes, Senior Advisor DogA.
DOGA is a driving force for sustainable value creation through design and architecture. The organization works to strengthen the role of design and architecture in shaping tomorrow's Norway. Tarald Trønnes has extensive experience with creative work from various positions including international companies where physical distance is part of everyday life.
"This crisis is forcing everyone into digital tools, which in itself is a gigantic experiment."
Tarald has experience working creatively and digitally from previous jobs. "My experience with digital workshops is that some participants are more curious about digital tools than others. The tools can become an obstacle by the fact that some have better technological understanding than others, it is not very inclusive and may compromise the process as insight can be lost. Adopting new programs requires more than an online course," Tarald continues, "working creatively over distances requires introduction to new workflows and tools. Participants must familiarize themselves with the programs in advance. Digital White Board programs like Mural.co can be perceived as strange if you are used to analog work, here there is room for some insight to be lost if the participants are not equal."
Trønnes also sees some opportunities with these work tools: «Digital tools allow for longer reasoning than is often the case for analogue workshops. An analog workshop can result in 50 spontaneous ideas, but not necessarily the most viable ideas. Digital workshops allow the thought processes to take longer. The mind gets time to think outside the workshop itself, however, it is even more important that the project manager sets deadlines and exercises discipline in the group".

«Digital tools allow for longer reasoning than what is often obtained for analog workshops. An analog workshop can result in 50 spontaneous ideas, but not necessarily the most viable ideas. "
Tarald Trønnes, DogA
Today's need for technological know-how puts new demands on employees, and it becomes more visible who is unable to keep up. This distance between those who are technologically savvy and those who are technologically hopeful, Trønnes believes can be transferred to companies and how digitized they are. "Those companies that do not have digitalized solutions today will probably experience lower loyalty after this crisis is over". Companies that digitally created value to their customers in recent weeks will have reap the benefits when life goes back to a new normal, and maybe the new way to create value is the new industry standard? Trønnes further believes that design plays an important role in the digital meetings with the customers. Design methodology is based on customer insights, and during this period the designers act as business developers. "Crises like this illustrate more than ever that the ability to adapt quickly is worth more than being the biggest or strongest."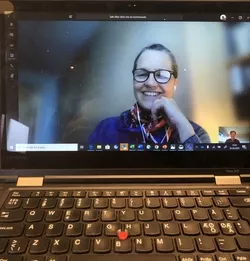 Hanne Margrethe Hjermann - Managing Director IARK as
IARK is one of Norway's leading interior architects with workplace development as a specialty. Hanne Margrethe Hjermann joined the company in 2011 and has more than 25 years of experience as an interior architect. An important element of each project for IARK is - in close collaboration with the customer - to capture the company's identity as the foundation for the road ahead. Knowledge of the project ensures user ownership and enables them to manage the end result throughout the project. In order to capture this insight, IARK uses creative tools with the client that are adapted to the resources made available in each project.
IARK was fully established with home office and digital tools for all employees on the day that the Public Health Council changed amid the outbreak of KV_19. The use of Teams was already incorporated into the organization, and most were already operational in the program. "Close dialogue and coordination ensure continued progress in our projects. In some situations, like when we physically work with material, we have to be creative. Then we have, for example, a person standing in the material room in the office, with other participants digitally present. We also experience great flexibility from manufacturers and suppliers who have in some cases driven around with material samples being placed outside our homes," says Hanne Margrethe.
The new work methods will surely affect the processes on the day restrictions are lifted and working life returns to a close to normal situation. For example, completely new routines for communication and information flow are established. "Through digital meetings, we strangely get closer to each other. We are invited into living rooms and kitchens both internally and externally. It creates a kind of unity," Hjermann says. "In addition, we save a lot of time that usually goes to transport, and I think we get a different relationship with punctuality." She also adds that meetings have become more effective.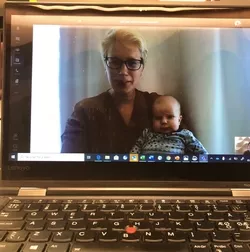 Mari Skogland, Workplace Consultant at Gottlieb Paludan Architects
Mari Skogland holds a doctorate in workplace architecture and has studied from an interior architect's perspective how people work together in different offices. In the position of workplace consultant, she is involved in processes to create insights into how people work and what it takes to work differently. Mari is a resident of Switzerland and is used to working creatively from a distance as her offices are in Norway and Denmark. Mari interacts with colleagues and customers via Skype, and experiences that an important barrier is to be confident enough to dare to show how you work. "You will never get away with preparing well - this applies in analog as well as digital processes," emphasizes Mari.
"You will never get away with preparing well - this applies in analog as well as digital processes" Mari Skogland
In the exploration phase, Skogland emphasizes the value of practicing, researching and planning the workshop. "You have to be confident enough to show your screen and illustrate your thoughts. Everyone comes to the meetings with different starting points, so it is important to establish a common place to start from, and go from there," explains Skogland.
Mari illustrates the value of documenting and working together on the solutions during the meeting. In practice, this means sharing a screen while drawing, writing and illustrating what is being discussed in the meeting. "This way of working makes finishing work much easier and it gets better quality. Everyone has felt included and involved, while the quality of the discussions across the table is not lost. "
Skogland believes the crisis we are going through now will provide a boost to get technology up and running. She also believes that freedom of a physical place means that more people will have a greater understanding that work is a mentality and not a place. "Many people find that they do not need all the tools they are used to when they have to make the most of the current circumstances. When this mentality sets in, one may ask oneself: Why do we go to work? Then comes the realization that the office is a social tool."