We have two new product families to present! Knekk, a family in solid oak, as well as the accessory series ON collection. Our ambition has always been to create great indoor experiences, and we are excited to continue to shape people's future working lives with new products onboard.

In addition to new products we brought with us some classics from our already existing collection. If you've not had the chance to see, feel or try some of our bestsellers, you now get the chance! We look forward to seeing you at stand C11:31.

SNEAK PEEKS FROM THE FAIR
Get to know us, see our new product launches, meet the designers and learn more about our Fora Form universe!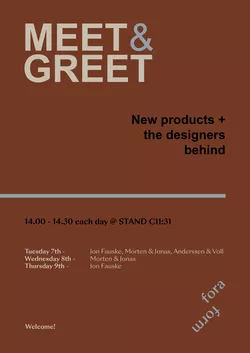 Meet & greet: New products and the designers behind
Come to our stand to meet and have a chat with one of our fantastic designers.

Talk about the products, the process, the thoughts or perhaps about what it's like to work as a designer in 2023.
At 14-14:30, every day, you have the opportunity to meet an exciting designer in our stand C11:31.

Tuesday 6th - Jon Fauske, Morten & Jonas, Anderssen & Voll
Wednesday 7th - Morten & Jonas
Thursday 8th - Jon Fauske
Welcome!