The high back sofa gives you the perfect nook.
The sofa is designed for work, meetings and interaction with contrasts between the precise outside and soft inside to create the perfect nook. The rounded back provides a friendly space. Round shapes help to make spaces feel more harmonic and connect one area to another without any hard corners. This makes TIND visually striking from all angles.

The high back sofa gives you the perfect nook. The nook where you lean in. The nook where you concentrate. The outward curved back invites you into the sofa and opens the sofa towards the users. This allows the high back sofa to be placed in a 90 degrees angle, which normally would seclude the users from interacting.

The nook in the high back TIND is where you and your colleague meet up before meetings to gather your thoughts. The low back is more petite, but the friendly nook is still in place. The low back allows you to rest your arm and make a conciliatory gesture. A low back Tind takes up less Space than a high back sofa.

The Tind 1000H is a high petit sofa for meetings or as an individual workspace. The rounded shapes make the sofa beautiful from behind as well. Inside the sofa, the round shapes make good nooks for interaction and comfort. Although the sofa has a small base surface, the sloping shape makes the sofa feel larger on the inside than from the outside.
Tind 1500 low back is designed for reception and office landscaping. A low tind will leave a less harrowing expression in the room. The sofa has a seat height as a conference chair and can therefore work well as a more informal meeting place.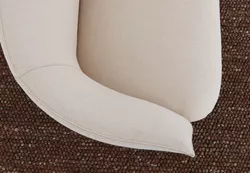 Tind's round shapes create enclosing shapes where you can lean in to concentrate. The rounded shape also allows a user who shares the couch with another to lean into the nook, twist the torso and face the body they are sitting next to. That's a nice bonus with Tind's rounded back.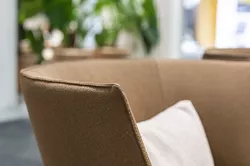 Detail and DNA is recognizeble from Fjell conference chair that won the DOGA award in 2018.