World Mental Health Day has become a cause close to Fora Form's heart. This is first and foremost because we strive to be a generous, warm organization, with room for everyone – and partially because Mental Health largely is about creating safe frameworks for good conversations. Great conversations often take place in a sofa or in a conference chair, and we believe the premises for such meetings should be placed within the furniture manufacturer; in this case us. Because of this, it has become important for us to mark the day, and we hope your organization will see the value of marking it, too.
Help spread awareness by ordering our free "The mindful office" merchandise and give your organization a chance to connect: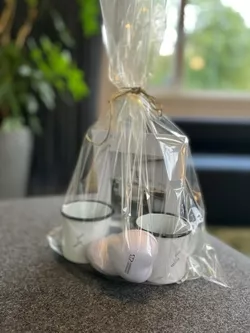 Create your own meeting
Our free giftbags gives you the opportunity to create your own meeting. A meeting where you get to know each other and talk about matters that are close to your heart.
Our 2022 giftbags include:
Two cups (one for you and your colleague)
Two delicious pieces of chocolate
Two stress hearts
A few questions to help create a better conversation.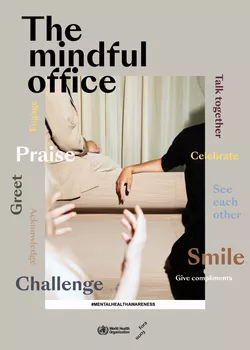 Our "The mindful office" poster
In a hectic workday it's hard to prioritize time to connect with your colleagues. To talk, challenge and praise each other. The poster gives helpful and important tips on creating a mindful office and what each of us needs to remember in the day-to-day life. The poster can be gifted to any organization and is a gentle reminder of what creates meaningful interaction in an office.
"We are used to talking about how many design awards we have won or showing the great interiors created with our furniture, but rarely talk about the real magic. The magic that is created on a sofa between two colleagues or the great ideas that comes out of a creative workshop. These interactions must be celebrated, and we hope people will see that through this campaign." says marketing manager Pål Eid-Hviding.
We have extensive experience. For 90 years, we have worked to create public meeting places through the strategic use of design and in that way we have been able to shape forms of collaboration in Norwegian working life. We will now focus on the working environment and mental health. In connection with World Mental Health Day, throughout October we will be sending out a poster together with all orders leaving our factory. A poster with six tips on how to achieve better mental health in the workplace.
Six tips for how to achieve better mental health in the workplace:
1. GREET
Being greeted with courtesy and respect controls self-esteem and the sense of belonging.
2. PRAISE
Through work, we get confirmation that we are capable and matter.
3. TALK TOGETHER
Talk together about formal and informal matters. Good communication is built through trust.
4. CELEBRATE SUCCESSES
A sense of belonging can be created in the workplace, and a community around meeting individual and common goals. Feeling that you are involved in something meaningful strengthens your mental health.
5. SEE THE PERSON YOU ARE TALKING TO
Give affirmation, show that others matter and see each other to create a community. It gives security and satisfaction to be able to feel that one is a member of the group.
6. CHALLENGE
When you go through tasks and challenges that you can master - and receive praise for it - your self-confidence will grow.
Throughout okober, all our orders will include a poster with tips for creating better mental health in the workplace.
This campaign is part of the World mental health day. You can read more about the cause at World Health Organization website.